AT WHAT POINT IN TIME SHOULD THE MEASURED MILE BEGIN?
Figure No. 1 below shows the original Measured Mile graphic, wherein the "measured mile" starts at Point A, three months into the work after 30% progress has been achieved very inefficiently. Holloway Consulting's experience as a construction labor productivity expert has shown that the methodology described in the original 1986 article and employed unsuccessfully on many occasions thereafter is deeply flawed, because virtually all of the inefficient man-hours incurred prior to the start of the measured mile would be non-compensable and fall to the contractor's account.
Original Measured Mile – Figure No. 1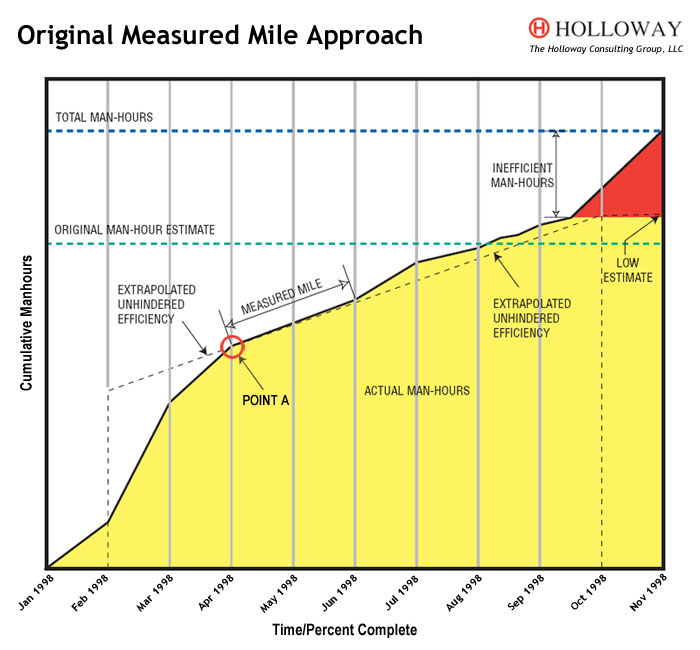 As shown in Figure No. 2 below, a more reasonable approach for a construction labor productivity expert would be to first establish a defensible measured mile or rate of labor performance or labor productivity. That rate of performance should then be started at 0,0 point on the X-Y axis of the chart and projected forward to the substantial completion of the work. The Measured Mile analysis should then reflect the fundamental premise of this construction labor productivity analysis method — the work at issue could have been completed at the rate of production upon which the "mile" is based, without unreasonably penalizing the construction contractor for the consequences of "when" the mile started and ended.
Revised Measured Mile – Figure No. 2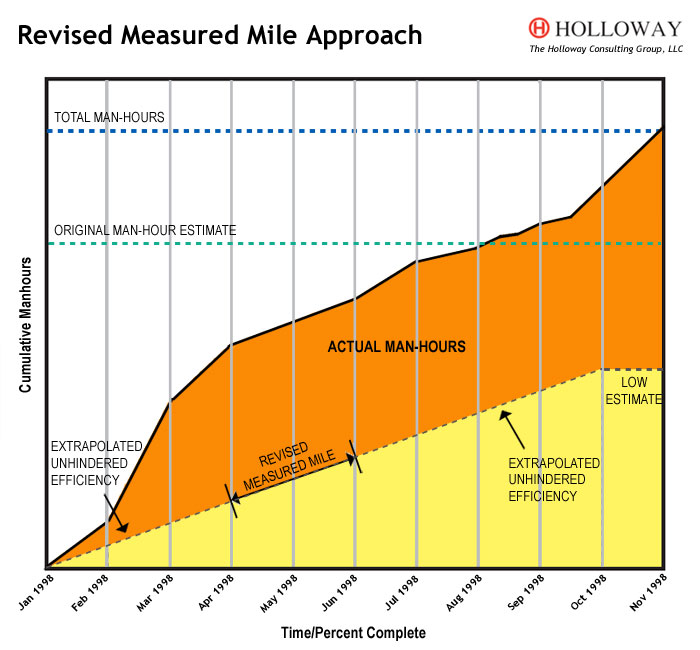 The original 1986 article by Dwight Zink also proposed that the first and last 10% of the work, "are not valid because they are build-up and tail-out and are not representative of expected or average sustained costs." While this statement may have represented the original author's opinion, experience on over $20 billion of construction indicates that there is no analytical basis for these percentages. Many experts are in agreement that build-up and tail-out often occurs, but their rates and durations vary from project to project.
READ MORE HERE ABOUT THE MEASURED MILE. . .
The Holloway Consulting Group – Construction Experts
International Toll Free: (888) 545-0666
Email: steve.holloway@disputesinconstruction.com