The Measured Mile
Holloway Consulting is an internationally recognized expert in Construction Craft Labor Productivity measurement and analysis techniques, and we are publishing this series of articles here to examine some of the strengths and weaknesses of the analytical method known as the Measured Mile Method, as utilized over the past 25 years in construction disputes and claims settlement, mediation, arbitration and litigation.
Holloway Consulting – Trial Exhibit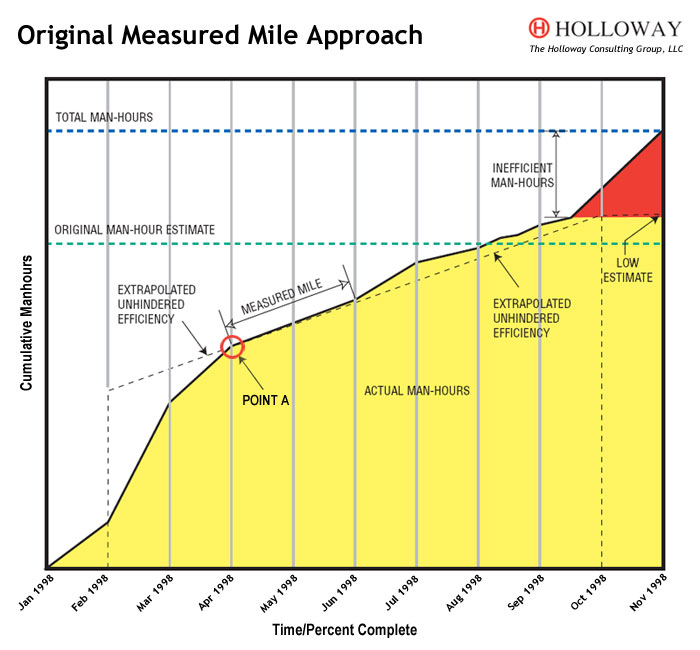 Since 1986, the "Measured Mile" has been a popular analytical method used by claimant contractors in an effort to quantify construction direct or craft
labor productivity losses on construction projects. The stated goal of this method is to compare productivity during periods of a project that have been adversely impacted by unanticipated excusable/compensable causal events to productivity during those period(s) that were not impacted, or that were unhindered. This un-impacted or unhindered period of labor performance is referred to as the "Measured Mile", which is used as the baseline to predict what the labor performance (and final labor man-hour and cost budgets) should-have-been. (Wouldn't our work be boring without such catchy descriptors as Measured Mile, Time Impact, But-For, etc.?)
Construction Craft Labor Productivity Analysis Methods
Whether managing projects via a Cost/Schedule Control Systems Criteria (C/SCSC) as part of a government contract, or resolving disputes under private contracts using the "Measured Mile" method or other craft labor productivity measurement and analysis techniques, the primary goals of such methods of labor productivity analysis are to:
1. Determine when, where and why actual job productivity or craft labor productivity performance has varied from estimated and budgeted performance; and,
2. Quantify compensable and non-compensable craft labor productivity losses and damages.
The Holloway Consulting Group – Construction Experts
International Toll Free: (888) 545-0666