CONSTRUCTION LITIGATION SUPPORT
The Holloway Consulting Group, LLC is a internationally known Construction Consulting Firm. As illustrated on our post at Construction Claims, one of Holloway Consulting's primary practice areas is Construction Litigation Support involving claims and disputes.
CONSTRUCTION DISPUTES AND CLAIMS EXPERTS
This post begins Holloway Consulting's series on the Construction Litigation Support services we provide to our clients. The graphic below provides a brief overview of some the various roles we play in the construction litigation process.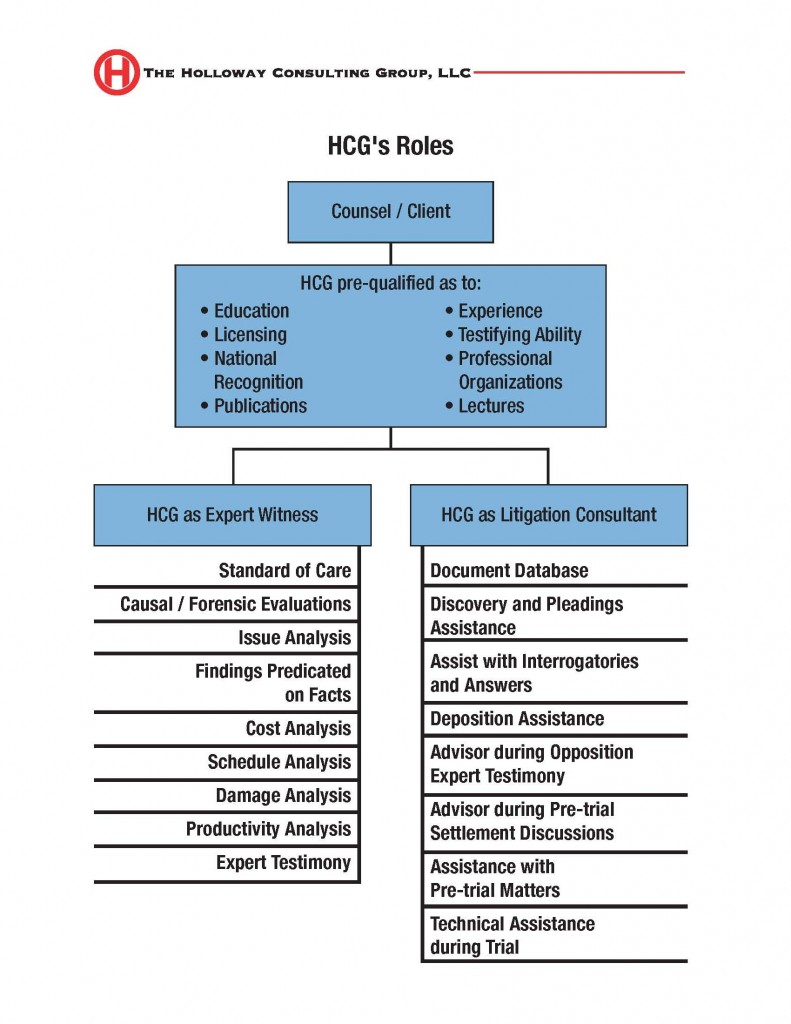 DOCUMENT DATABASES
Our clients include all parties in the construction process – law firms, public agencies, developers, owners, design professionals, construction managers, general and trade contractors, etc. The more experienced and sophisticated the client, the more apt they are to manage their project databases. For the less sophisticated client who is rarely in construction disputes, Holloway Consulting often manages the document databases.
DISCOVERY AND PLEADING ASSISTANCE
Where we work directly for the less experienced attorney or client, or where the attorney has little or no construction litigation experience, we provide assistance and define with great precision the information that should be important in the case.
ASSISTANCE WITH INTERROGATORIES
In cases where we are retained early in the process, it would not be uncommon for us to have job knowledge that equals or exceeds counsel's. Therefore, counsel often seeks our assistance with certain interrogatories.
LAY WITNESS DEPOSITION ASSISTANCE
In many cases, our perspective on the testimony required of lay witnesses will be different from counsel's. In such circumstances, counsel will seek our expert assistance with depositions.
EXPERT WITNESS DEPOSITION ASSISTANCE
When we work for the less experienced attorney, or where the attorney has little or no construction litigation experience, or where the technical topics are esoteric in nature, we can define with great precision the questions and topics to be addressed to the opposing expert(s).
ADVISER DURING SETTLEMENT DISCUSSIONS
Holloway Consulting is most often retained as the causation and damages expert witness. Therefore, clients find that our expert perspective and input during settlement discussions to be invaluable.
ASSISTANCE WITH PRE-TRIAL MATTERS
Whether working for the more experienced and sophisticated client, or for the less sophisticated client, Holloway Consulting's expert witness provides valuable contributions to the numerous elements of the pre-trial process. Identifying and outlining motions in limine on expert topics is but one common example.
ASSISTANCE DURING TRIAL
Of course, on many occasions, counsel asks us to attend trial to listen to both lay witness and expert witness testimony. It is uncommon for Holloway Consulting's expert witness to attend most or all of the trial to assist and support both client and counsel.
Holloway Consulting
Construction Litigation Support Consultants – Expert Witnesses
12081 W. Alameda Pkwy., #450
Lakewood, CO 80228-2701
Denver Phone: (303) 984-1941
International Toll Free: (888) 545-0666
Fax: (303) 716-0432
Email: steve.holloway@disputesinconstruction.com
Blog: disputesinconstruction.com
Web: hcgexperts.com
Selected Pages at hcgexperts.com, 12-20-11
| Construction Scheduling Consultants | Construction Schedule Consulting | | Construction Management Services | Claims Services | Claims In Construction | Construction Claims Consultant | Construction Consultants | Construction Claims Expert | Project Scheduling Consultants | Scheduling Consulting Firm | CPM Scheduling | Construction Contractor Claims | Claims Consultants | Holloway Claims Consultants | Differing Site Conditions Claims | Contractor Claims Consulting | Defective Plans and Specs | Defective Contract Documents | Construction Consultant | Fixed Price Contracts | Schedule Acceleration | Design, delays and defects | Damages Analysis | Oil & Gas Project Claims | Pipeline Projects | Power Generation Projects | Delay Analysis Publications |